Aula Mágica
Magical Classroom (Aula Mágica in Spanish) is a stand-alone extension of Let's Be Ready adapted to cater to the needs and challenges of rural Guatemala. Unlike Let's Be Ready, Magical Classroom's partner communities lack locally available graduated preschool teachers and thus have been perpetually unattended. Therefore, we are a non-profit social organization that supports rural communities in need of preschool education in Guatemala. We serve children ages 4, 5, and 6 years old living in rural areas.
Mission
To provide high-quality and innovative pre-primary education, tailored to their needs and designed for the underserved rural communities of Guatemala.
Vision
To have successful children in their first year of primary school and beyond, with knowledge that will enable them to have a successful educational development, knowing that educational learning in early childhood is crucial.
Objective
To be a sustainable organization and to be able to reach more rural communities in need of preschool education.
To be capable to be in constant educational updating to continue providing high-quality teaching.
Who we serve
Children ages 4-6 years old living in rural communities lacking access to regular preschool programming.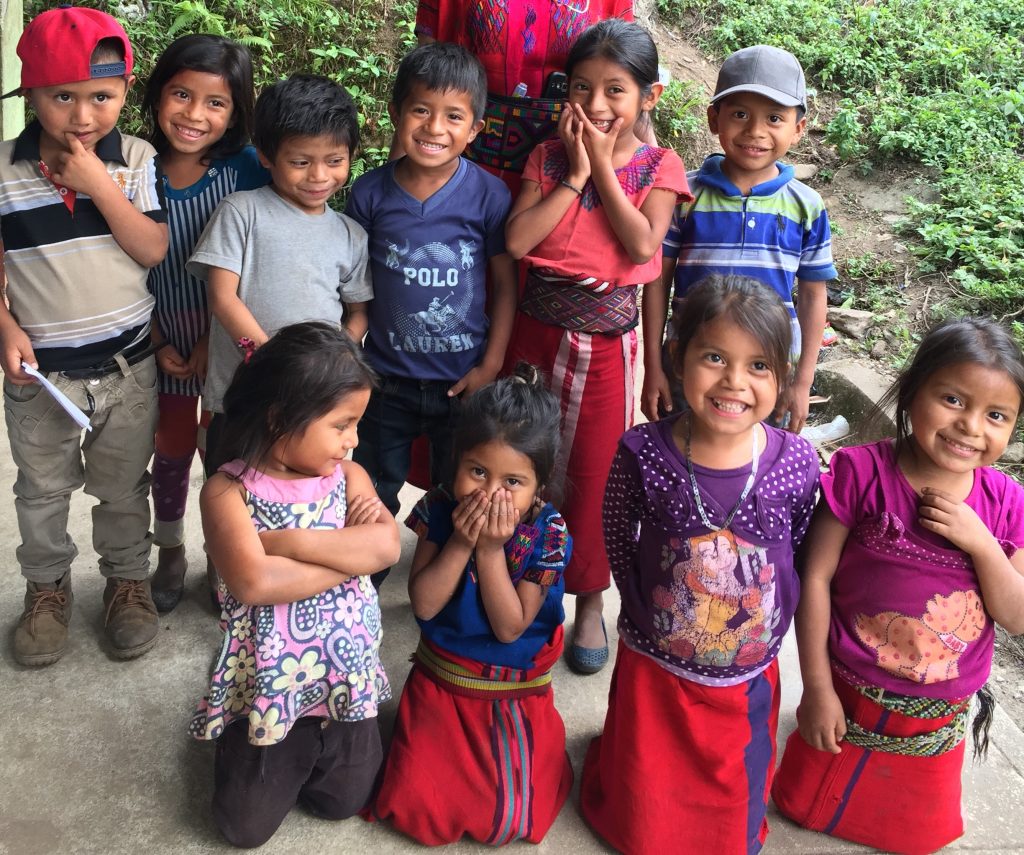 Why do we exist?
The initiative to start Aula Mágica arose from the great need that exists in the rural communities of Guatemala, because of the fact that these communities are so remote means that they are constantly abandoned, so their inhabitants live at a continuous educational disadvantage.
Countless studies have proven that early learning is essential for future cognitive development and awakening potential. With very little prior stimulation and social interaction, these children are at a great disadvantage when entering elementary school and are at high risk of missing out on first grade.
About 60% of Guatemalan children fail to complete primary school, and for indigenous children who do not have Spanish as their first language, the rate is even higher. At least 30% of children miss first grade or drop out after repeating several times, gravely limiting their future opportunities and development.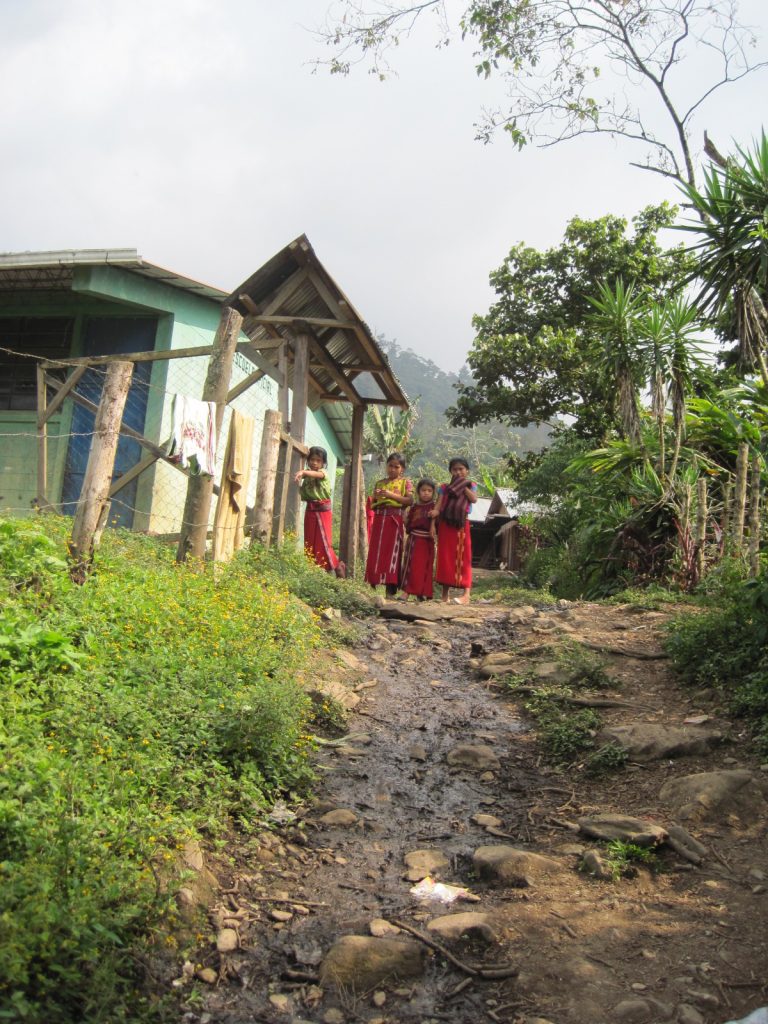 The importance of preschool education in Guatemala
Preschool education is so relevant that it deserves all our attention, reflection, and, above all, relevance so that we all become aware that every child has the right to it.
In the stage from 0 to 6 years old, the brain presents a greater disposition to stimuli that will favor socialization, creativity, and learning. In preschool education, the children learn to relate to others, to develop responsibility, solidarity, and the importance of respecting rules and norms. They also generate a series of habits that will forge their character. All this occurs in a playful and pleasant environment that will provide confidence and self-confidence, where they get to learn to be more independent and self-sufficient. In the cognitive area, children finish preschool knowing how to read, write and calculate simple operations.
Unfortunately, in Guatemala, many children in rural areas do not start school until seven years old. By then, these children are already looking at the end of the formative years of child development, so they are at a considerable disadvantage compared to children who do have the opportunity to attend preschool. We have every desire and motivation to make a difference with our program!
Help us expand!
Our model of preschool prepares rural children for success in primary school. We utilize local literate people as teachers providing them with curriculum, materials and training.The community provides the space for them to meet with small groups of children 2-3 hours a day. 8 out of 10 of our children complete primary school. The model has worked for over a decade now, first in our legacy program with 25 teachers and now more recently 25 more in our program Aula Magica tailored for the most rural areas. Now we want to expand faster to the entire country of Guatemala.
When we began the Magical Classroom program 4 years ago, GoPhilanthropic invested in administrative costs to build the program. No one else would do that. The rest of our financial support comes from organizations that want to pay only the direct costs to support preschool teachers, families, and kids in specific communities. Now, we are looking for organizations and individuals who would be interested in paying the direct costs of expanding the program aggressively for the next 5 years through programs in the more rural areas of the country. Government analysis in 2019 shows at least 40% of the kids in rural areas are not enrolled in any type of preschool program and at the same time are at high risk for malnutrition, with no effective private or government programs to solve the insight of the problem. Our model solves both problems at a very reasonable cost while providing jobs for young educated women. What a deal!
Our most effective method by far in getting people/organizations to pay the direct costs of the program has been through visits to existing classrooms and then sponsoring. seeing is believing (and becoming committed to becoming part of the solution). We would like to have travelers with intention of exploring supporting the proposal visit in Guatemala late this year or early the next to see the program in the villages. One of our partners, GoPhilanthropic would be the ideal vehicle to arrange the visits and associated travel. We would need to begin planning soon, so there is some urgency. We have thought of the possibility of travel restrictions continuing, especially for Americans, and believe that we could do a virtual tour as well.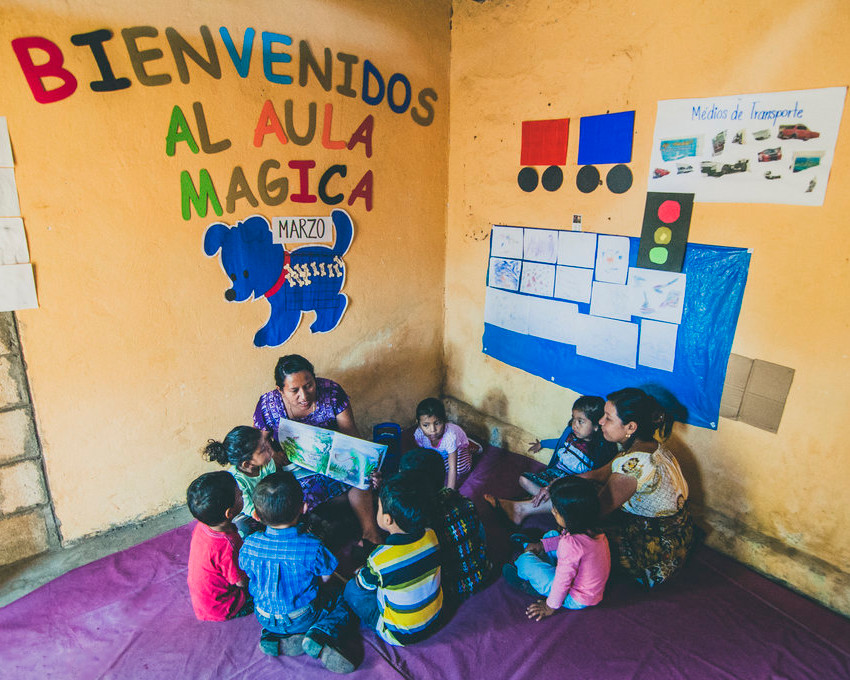 Where we work
Due to its mountainous terrain and turbulent history, Guatemala is an incredibly fragmented country, full of rural communities that are located several hours away from the urban center and the city. The fact that these communities are so remote and abandoned means that their inhabitants live at a continual educational disadvantage, with high schools and universities situated many hours away. Aula Mágica helps overcome geographic isolation and lack of educational resources by providing youth leaders with the necessary tools to ensure that children receive a decent preschool education in their communities. This is critical to their success in first grade and their future.
Rural and remote communities are our priority. By working together with local families, community leaders, and local authorities, Magical Classroom is able to work effectively in communities with this type of profile.
How it works
Committed teachers and entrepreneurial youth: With the help of our local partners, we identify local youth (typically ages 16-24) living in the community itself, whom possess both a spirit for community development and a passion for working with children. After an intensive training session, these facilitators go on to lead daily preschool classes in their own community using our original guided curriculum that has been specially adapted for rural use.
Easy-to-follow and dynamic, our curriculum leans heavily on participatory activities and crafts that spark our children's imagination in ways not typically seen in Guatemalan schools. Having an easily-understood guided curriculum, capable facilitators and small class sizes (10-15 kids) allows us to do all of this in just two hours' classroom time – allowing our facilitators to work, study or tend to their families after finishing class.
While each facilitator sets off to work in their own community following our bi-annual trainings where the entire team comes together, they are never entirely on their own throughout the year. Now more than ever, we strive to accompany rather than supervise our facilitators. Be it monthly get-togethers with their closest peers, hosting occasional parent workshops in their communities, and the various scheduled visits from our administrative team, our facilitators are given the right amount of tools to feel empowered and be successful not only in their classrooms, but in other areas of their lives as well.
Each facilitator receives a monthly stipend, which for many has served as a push toward pursuing their own educational and professional goals. We get a great amount of satisfaction from knowing that we are helping serve two different generations at once: our students whom are the future and our youth facilitators who are the present.
Our educational methodology
Magical Classroom uses the Active Learning Methodology which consists of a combination of methods, techniques, and strategies that put the child at the center of learning, thus giving them more freedom, control over their education, and for them to be more participative.

The Active Learning Methodology looks to create an education that offers children an enjoyable working environment that is innovative, participative, dynamic, fun, and active. This is through the implementation of different methods inside and outside of classroom, which are adapted to the subjects taught, as well as adapted to the child's age and their rhythm of learning. The methods that we use are: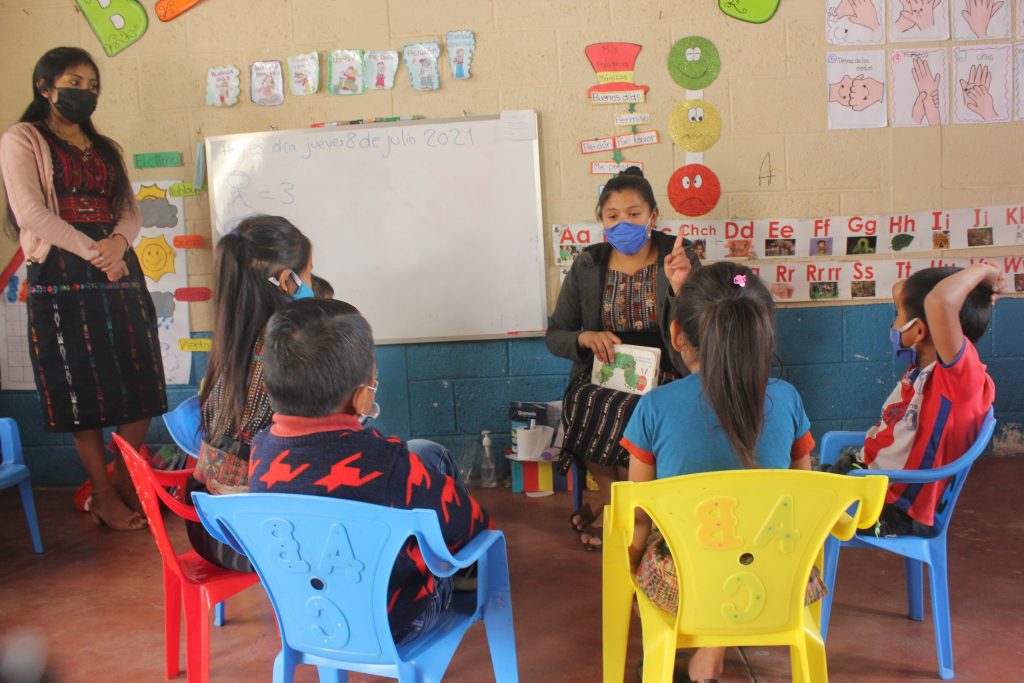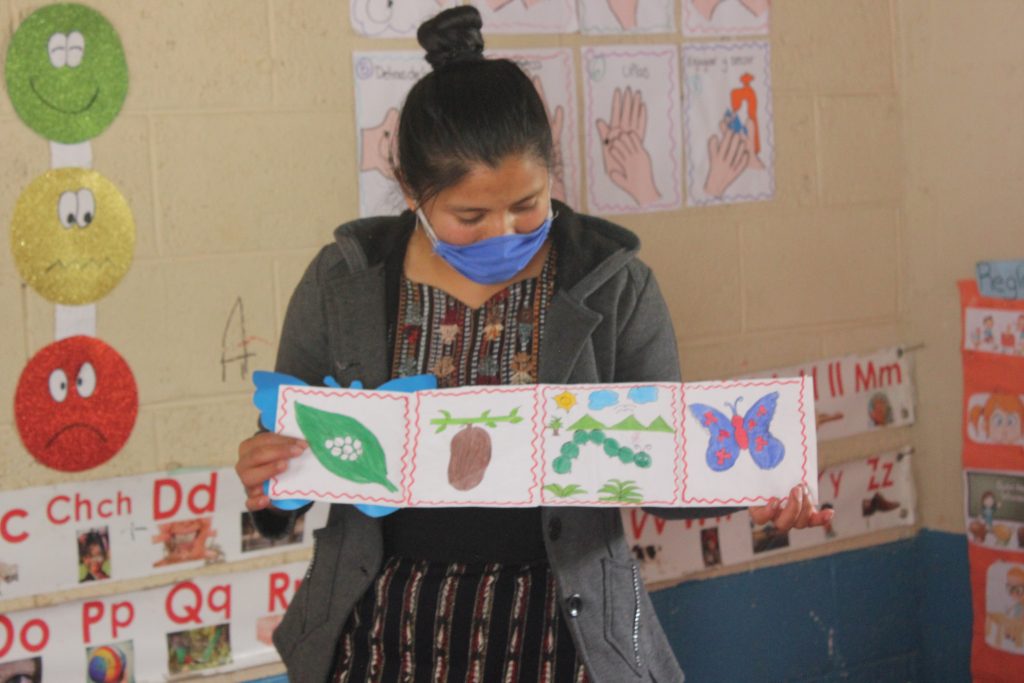 Montessori: the child has the opportunity to explore freely and discover through their curiosity and their own experiences with different teaching activities including numbers and letters. Waldorf: we promote artistic and creative skills, contact with nature, and good values.
Thought-based learning: we develop the critical thinking of the child.
Project methods: This is carried out through spaces known as learning corners, such as reading corners, block corners, art corners, numbers and letters corners, and music corners. In these corners, different activities are carried out and children can experiment with different recycled and natural materials.

Alphabetical & phonetical method: we use the alphabet so that children learn vowels, consonants, with their related sounds, imagery, and movement.

Newark Method or Story method: A story is read in each class, taking advantage of the curiosity and imagination of the child, awakening a love of reading in which they use rhymes, games, tongue-twisters, plays and reading comprehension.

Little Star method: Children learn sounds and trace the letters.

The Base National Curriculum & Creative Curriculum: both curricula are combined so that the facilitators have teaching tools, offering the necessary content to encourage and support the students, helping them achieve success, to be creative thinkers, and offering practical opportunities to explore and discover new things.

Amongst the strategies which they've involved in the program are: small experiments, magic words, learning through games, educational audio activities, using technology, and developing fine and gross motor skills.

The benefits of the Active Methodology for children at Magical Classroom are a greater motivation for the learning of new knowledge, the acquisition of new cognitive, social, emotional abilities, greater curiosity and imagination, motor skills, language skills, and benefits to the development of autonomy. Through this, we help the children to be successful, thoughtful, creative, and confident children.

The method is implemented and adapted to the social context and the culture of each community in the different departments where we are currently working. Our facilitators become people who can guide the learning of our children, basing the learning on concrete experiences to achieve learning that is appropriate and effective.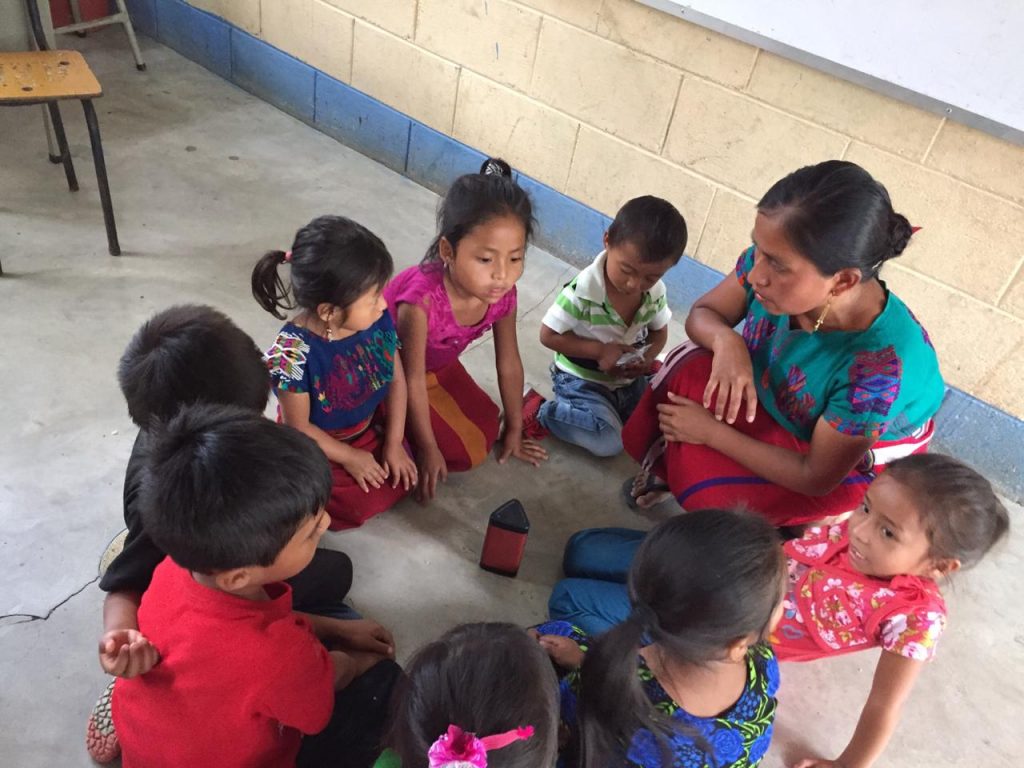 Harnessing Technology
Our facilitators are each equipped with a tablet and portable Bluetooth speaker to be used in the classroom. All program materials (activity guides, educational audio capsules and any additional supporting materials) are all housed on the tablet, while the speaker is used to play the audio capsules for the class. The shift to modern technological solutions has allowed us to make improvements to our program more quickly and therefore improve the overall classroom experience.
Nutrition
In an effort to boost our academic program, we have added a nutritious snack component to our daily operations. By working with The Mathile Institute and forming local mothers groups whom will be engaged throughout the year with different activities, we will provide all of our students with a serving size of Chispuditos. This is a micronutrient-infused and culturally palatable atole drink that has shown to significantly reduce chronic malnutrition and other chronic illnesses across children ages 0-6 years old in rural Guatemala.
The opportunity to combine a proven deterrent for child malnutrition with engaging academic preparation has both our team and partners brimming with excitement moving forward. In Magical Classroom, we will be performing before-and-after assessments of all of our beneficiary children measuring their height, weight and in some cases hemoglobin levels to help measure the impact of this new and exciting intervention.
Class schedule
In order to have a program and a successful learning environment, a minimum of 10 children and a maximum of 15 children, with a duration of two hours a day, from Monday to Friday, the age of the children is from 4, 5 and 6 years. In advance we give the facilitators a 45-week schedule, compared to the education of a traditional school year.
In exchange for the service provided to their community, the facilitators receive an economic mensual incentive from January to December to be used for the follow-up of their personal education and give these young people the opportunity to continue their professional and educational development. Thus, we have the possibility of influencing the forecast of both the current and future generations.
Get Involved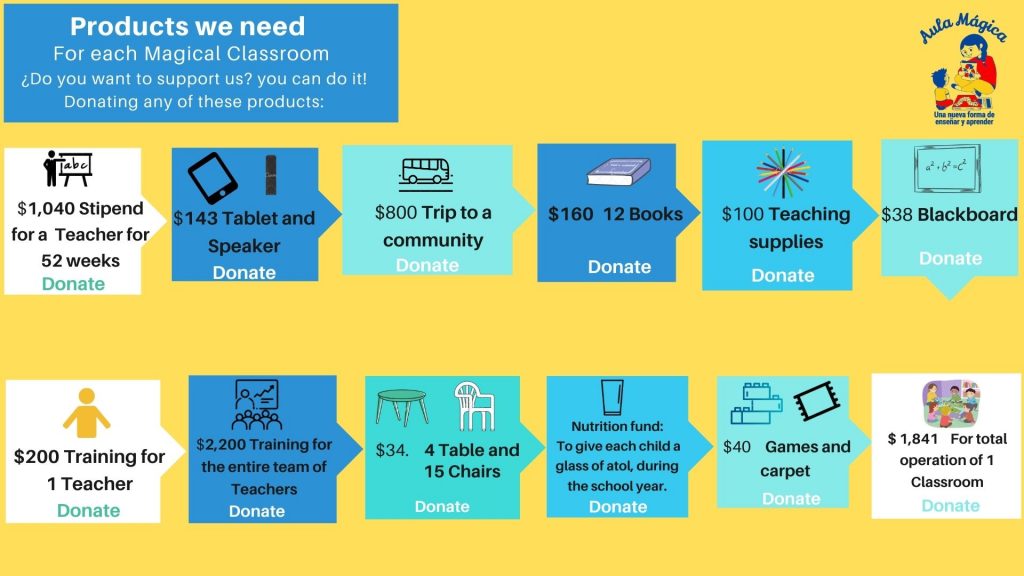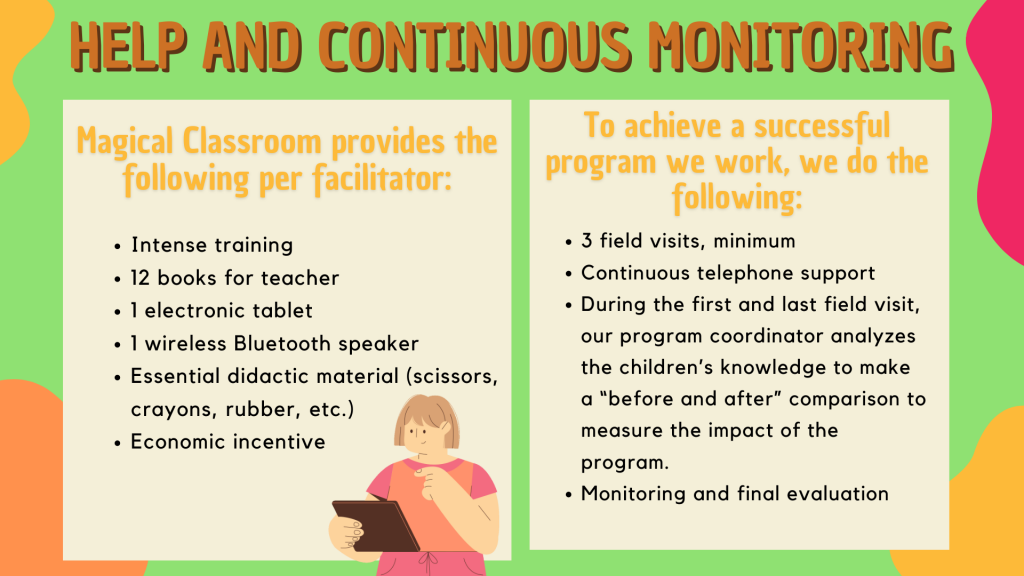 Important to mention, in our program we work a very high percentage with recyclable material, for our work in the class. With this we help parents to spend financially and collaborate with the environment.
Donate
You can make your donations on the following pages:
*DonorSee offers a discounted fee if you use the link that they provide for our donors. The fee is 2.9%
*PayPal offers a discounted fee for charities of 1.99% + 49¢ per transaction.
*Global Giving has 15% deducted from each donation, but has quarterly updates delivered to your mailbox